"Viareggio in te son nato in te spero morire"
Some weeks ago I spent an amazing weekend down in Viareggio, Rebecca's hometown. It was my first time ever in Versilia, I am not used to go to the sea there because I am too demanding and I do not like bathing in other places than Sicily. But, I have to say, Viareggio's "lidi" are really well organized. We tanned, lying in the sun, we had a great openair whirlpool and we chatted a lot about random gossips...
She is Samantha, a.k.a La Sammy, she is one of Rebecca's best friends and I truly loved her. She is kind of hostile with people she does not know, but with me it was love at first sight! You know, I know how to deal with people, it's kind of a natural gift. Sammy is the typical kind of old-fashioned girl, who wants a true love and lot of kids in a big house with a garden, and a dog, of course.
I totally adore this picture of me. It has a 70's mood that reminds me of my mom old photos at the sea. I need to scan one of them and show it to all of you soon!
Oh well, this one explains perfectly our first night in Viareggio. Rebecca brought me in this club on the beach, called Macondo. We were "a bit" drunk, that's why I took this picture of her while... well you can actually see by yourself what she is doing! We danced all night all kind of trashy and commercial songs, from "Waka Waka" to "Maracaibo". Amazingly funny ahahah
I guess my second day in Viareggio was my favourite one. We went by boat and I also fished! I was soo relaxed and I loved getting tan while Rebecca was reading some trashy gossip magazines. She loves this kind of stuff, she even made a subscription to gossip sms... My god!
He is Max, Rebecca's father. I felt in love with him, he's so so sweat!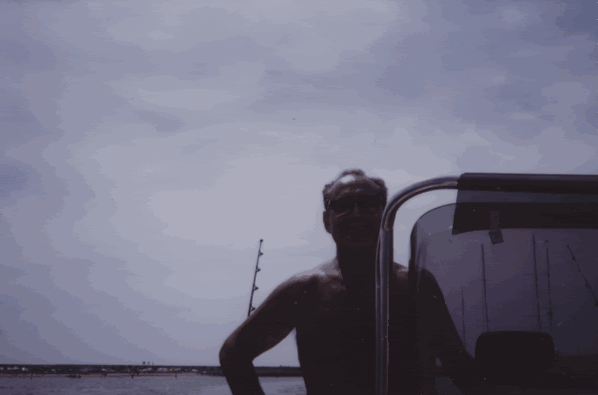 And he is Matteo a.k.a. Maggini. He made me dancing all night long. He is one of the funniest persons I have ever met and pretty, too!